Ecosia
Leading the mobile apps team
I created the right conditions for a multidisciplinary team to build impactful features reaching millions of users.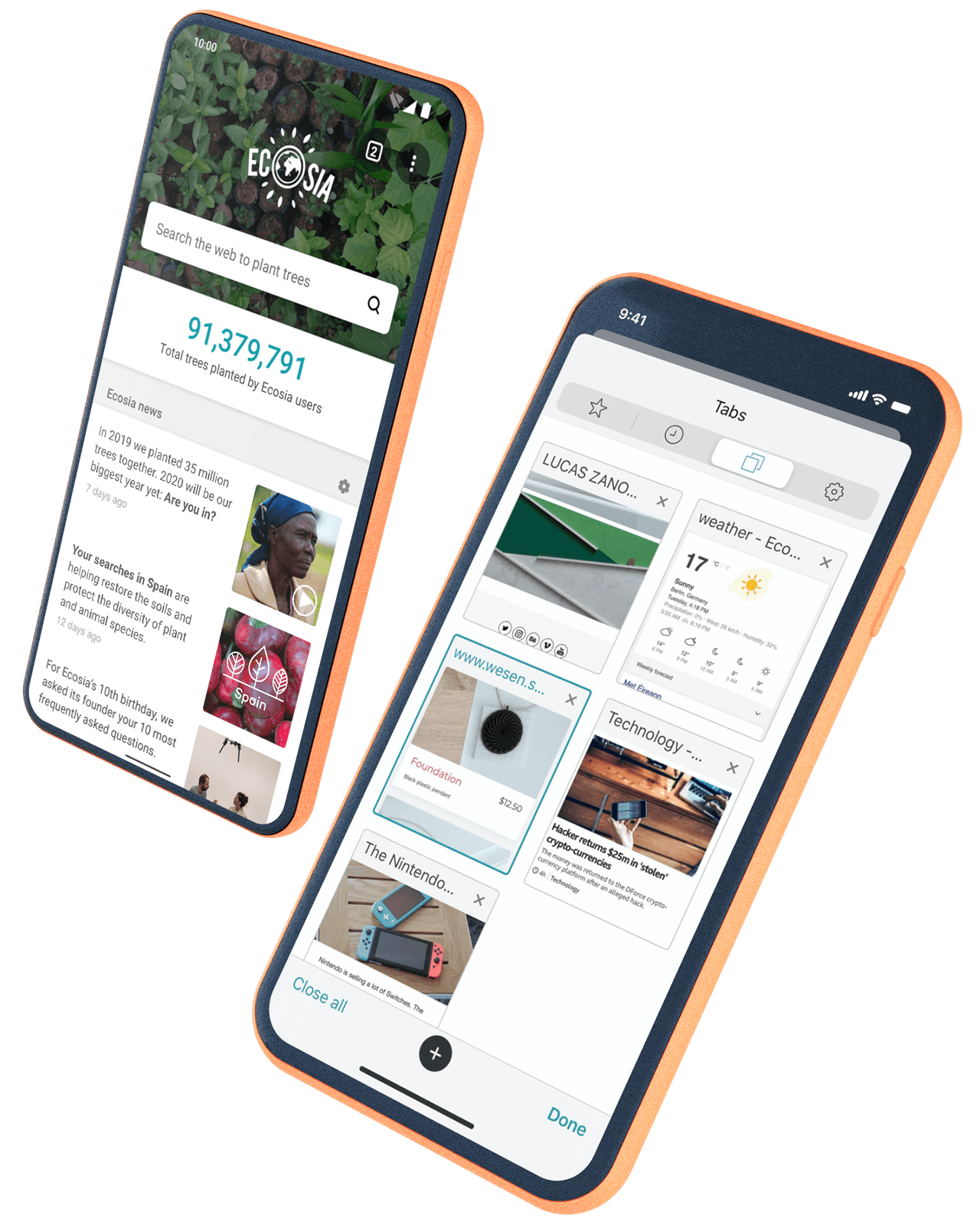 Android, iOS and MacOS apps
Product designer

2 iOS developers
Android developer
Team leader

Product Manager
Platform
Android, iOS and MacOS apps
Team
Product designer

2 iOS developers
Android developer
My role
Team leader

Product Manager
Ecosia is a search engine that uses 80% of profits from advertising to plant trees around the world, where they're needed the most.
The primary purpose of the apps is to make searching with Ecosia easy on major platforms. Additionally, we enrich our search results with green data to help users make sustainable choices while on the go.
Web search is naturally multi-platform and one way in which devices augment our mental abilities. It lives close to the OS. So it's critically important that Ecosia's apps fit seamlessly into users' daily lives. As product manager and team leader for the mobile team, I sought to ground my decisions in user empathy, balanced with technical and platform knowledge.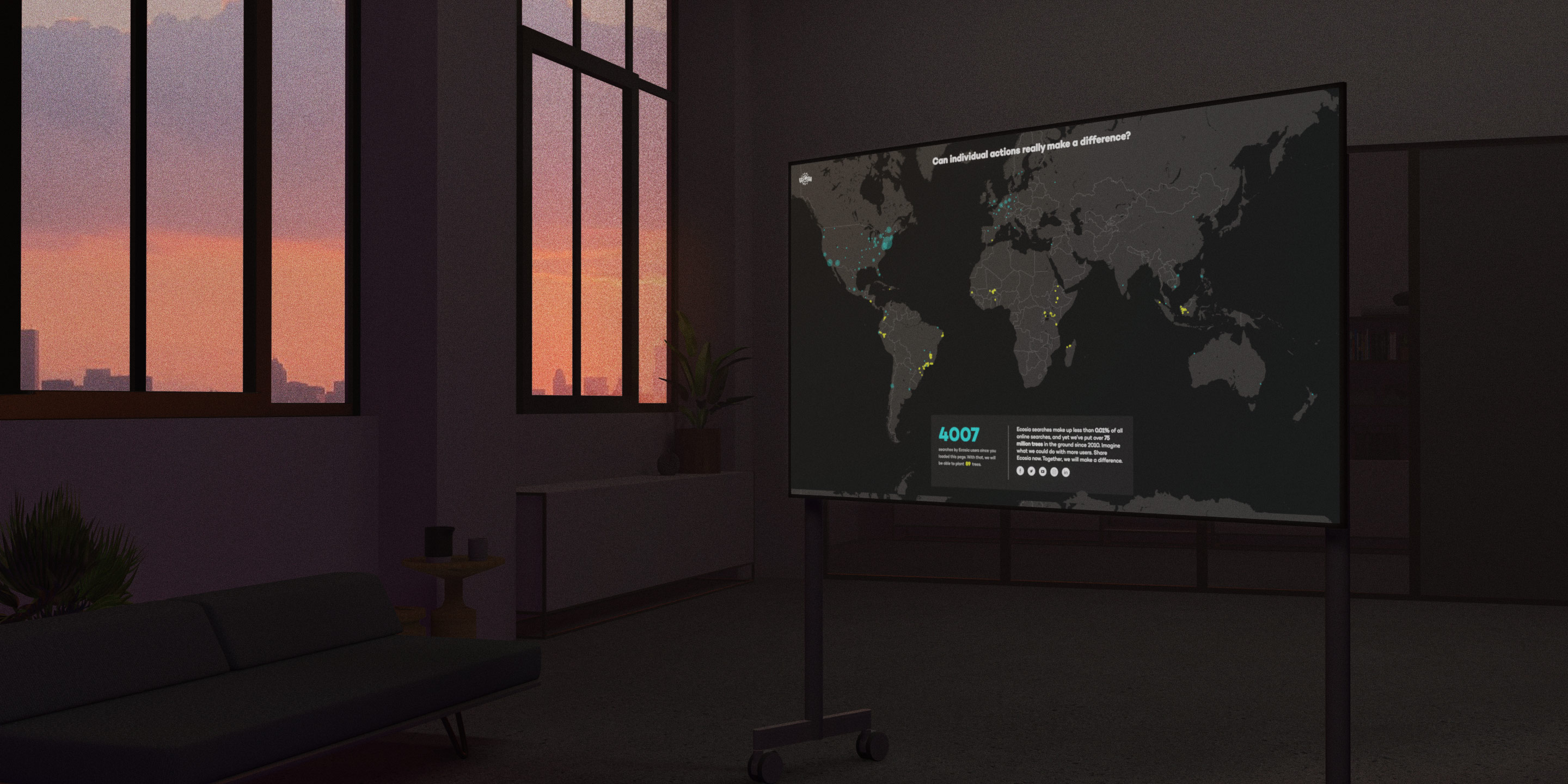 We planned and built this geo-data visualisation (opens new window) of realtime searches by Ecosia users (and our tree planting projects) over four days in Hack Week 2019. This version of the visualisation uses a looping 5 minute snapshot rather than the live data feed. I collaborated with a back-end developer and data analyst, where my focus was design and code for the front-end.
# Product design at scale
When I joined Ecosia it was at an inflection point. We would soon experience rapid growth, reaching over 10 million daily users. The organisation scaled accordingly and the design guild doubled. At that time it was critical to foster collaborative practices, establish a set of design principles and take the first steps towards a component-based design system. These considerations were forefront in my mind as I worked on projects such as (below) and .
Even as we grew, there remained the need to be hands-on and responsive. I designed and coded doodles marking significant milestones: and . I worked across all aspects of product design, from conducting dozens of user interviews and usability tests to getting into the details of design library components and interaction patterns.
# Product designer to product manager
With a growing user base and a renewed strategic focus on mobile, in mid 2019 it was time to found a new agile product team with a focus on mobile apps.
Having been closely involved on a strategic level as a product designer, I was a natural fit to take on the role of product manager and team leader. Over the next three months we grew the team from two to four developers and added a dedicated designer.
Leading projects and mentoring individuals gave me a good foundation to take on a position of formal team leadership, but I was glad conditions were favourable. My relationships with the founding team members were strong. Everyone in the team responded well to a culture promoting trust, autonomy and respect.
# Mobile team highlights
Early on, we had a standout success with the iOS App. Users were telling us that the app lagged in usability and missed key browser features. Browsing tabs were the top request. I worked closely with developers to shape an interface we named the for favourites, history, tabs and settings. This release immediately raised 1-week retention by an average of 18%. Over the same period our daily active users count jumped 3x. These results influenced the strategic decision to invest in mobile apps.
The greatest business impact came from a project where I supported the team to deliver complex technical solutions. The Ecosia is a fork of the Chromium browser. This offers a ready‑made, familiar browsing experience but at the cost of enormous investment to keep it up-to-date. I facilitated a design thinking process with developers where we identified ways we might accelerate the update process. Then I helped them prioritise initiatives, slice the work, establish milestones and finally evaluate based on success criteria. My technical background enabled me to participate meaningfully in discussions and offer effective leadership.
18%
Increase in iOS App 1-week retention
3x
iOS app DAU growth in 2019
4x
Faster Android app updates